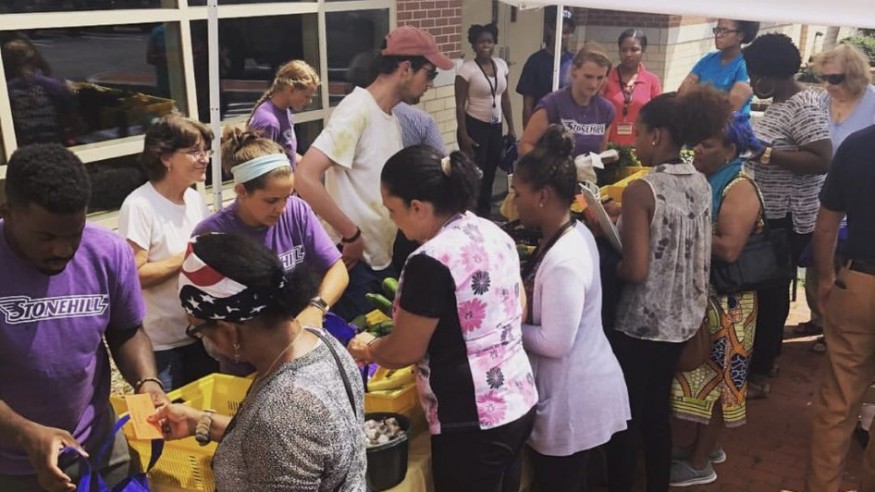 In my midterm, I discussed the Farm at Stonehill and proposed an initiative that would directly advance the mission of the farm: providing organic food to our neighbors who do not have access to affordable produce. I want to continue with this plan to plant community gardens at our community partners' locations so they can not only get fresh produce but also learn to grow it themselves. Fred Kent in his, '"Why true neighborhood building requires the dedication of a few 'zealous nuts'" he describes the value a neighborhood brings to individual members of the community and the importance of the space in that neighborhood. The space in a neighborhood, whether it is a road, park, or even a vacant lot, is necessary to connect everyone in their communities. Kent writes "a neighborhood can only reach its fullest potential when everyone who lives, works, and plays there feels welcome to contribute to the life of its public space." As much as the farm is there to help by providing food to these impoverished communities, they themselves are our greatest resource. I want to use the spaces in their residences to find an individual approach to encouraging the community to grow their own food. 
 However, before I can do this, I need support. The first step to getting that support will be on campus. First I would reach out to my boss, Bridget the Farm Director. From there, she can direct me to other contacts that might be interested in helping. Among them, I would guess, would be Professore Wetzel who is the department chair for interdisciplinary studies. The project's needs include students in all areas of study since it requires diverse knowledge and set of skills to accomplish. Professor Wetzel would know which faculty would be interested in including this project into their course work. The second person that would be important to talk to is Brittany Lorgeree, the head of the community engagement program. Brittany will be a huge help because she is in charge of organizing all the volunteers for different service organizations all over campus including the farm. For this project, she will be vital because of her position of outreach to the student body. We will probably rely on her for marketing and volunteer coordinating. Lastly, I know our contact John Badot, Assistant Director of Trades for our facilities management on campus will be necessary to the facilitation of our projects specifically for materials and transportation. John is very involved with the Farm at Stonehill. He is always there to help when we need projects that are over our skill level. He is also in a high up position so he will be able to make decisions in our favor. I am hoping he can grant us permission to collect and upcycle materials to make the community gardens and he can secure transportation for those materials and tools we need on the days of the markets and workshops.
Engaging these communities will require much work and organization on my part, but I am not alone. I have the help of faculty, staff, and the neighborhoods themselves to accomplish this project. "Jane Jacobs and the Theory of Placemaking in Debates of Sustainable Urbanism," author Adhya supports Jane Jacobs's philosophy of placemaking over the common learned practice of community developers. In the words Adhya, "for planners to learn to acknowledge and work with emotions within the long-term project of intercultural co-existence." As long as I remember the value of diversity of ideas and people included in the project, I believe planting community gardens at our community partners' locations will be a success.