Usually I don't appreciate smoking, but I have to contribute my placemaking insights to the cigarette butts of Sant'Angelo park. While picking up the squashed, burnt paper wrappings, my mind wandered. I thought about how the presence of cigarettes meant that people had spent time at these precise locations, probably contemplating the surrounding trees as they smoked. On one hand, the used cigarettes were almost a placemaking device because they showed the benches were being used and encouraging future visitors to continue the legacy. On the other hand, leaving cigarettes on the ground with other trash even though the trash cans are only five feet away shows a lack of respect and responsibility for the park. When people leave their cigarettes on the ground, while they are using and consuming the park, but are not fulfilling the second criteria of sustainable community places: caring for the park.
Thinking about the cigarettes in Sant'Angelo then reminded me of a community initiative in my hometown, Roanoke VA. A couple years ago, county-sponsored billboards that read, "The World is Not Your Ashtray" popped up everywhere. This slogan emphasized that as part of a community, we each have to take responsibility for our actions in order to have a sustainable, thriving space. Implementing ash trays with a similar slogan may be a helpful initiative for San'Antonio park.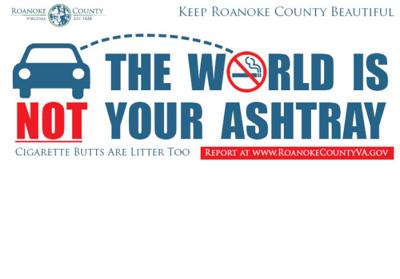 Since my thoughts were now in Roanoke, I began thinking of why some of the spaces I have encountered at home were unsuccessful and not used to their full potential. I came up with a few locations that, though not exactly city plazas like those Whyte describes, are struggling with their senses of place. The main one was 4301 Brambleton Ave. Many restaurants including El Rodeo, Tito's, Hometown Family Restaurant, Al Dente, Cave Spring Tap House have tried establishing a sustainable business here, yet none last for more than a few years. Part of the problem is the location. 4301 is a stand-alone building on a busy street with cars. (Unfortunately, my neighborhood is not pedestrian friendly.) While the current business, Don Cameron's, may sell delicious food, it's not on a busy street corner or walkable outdoor mall, so people are not going to frequent it. Location in relation to the street is often more important that the product offered. (White, 54).
            At the conclusion of my cigarette-inspired thoughts, I returned to amphitheater for the community participation part of the clean-up. Picking up cigarettes seemed like it had minimal impact on the well-being of the park, but the experience and process of cleaning up was just as important as the physical contribution. By participating in the clean up, I was able to actively reflect on my connection with the park and increase social capital with the residents of Sant'Angelo.
Some thoughts worth noting for the MOVE brainstorm:
I think it would be really cool to have some community events in the park to create art for the open air gallery. I wonder whether the community would like to work together to paint mural(s) on the wall, or if they would like to create their own artworks to display. A mural might be easier since you don't have to worry about framing. Working together on one piece would be another way to strengthen relationships between residents.